Influencer Indra Rossen-Lucasius
Interview May 2022
Indra, could you share with us some information about your family life?
I come from a very humble family, my father use to work at the Shell, later 'Isla' and my mother was a caring housewife. I have two other siblings and I am the middle child. I was born in Curaçao and I grew up in Amerikanenkamp and played with the neighborhood children. My parents have been very important to me as they taught me norms and values, like respect, discipline, obedience, and especially from my mother's side a serving attitude. My mother loved to help people. I have a very positive attitude towards life and this is an important part of who I am.
I am married for 22 years now and we have three children, the oldest is 22 years old and the youngest is 13 years old. We had deliberately chosen to have some years between the birth of the next child so that we could spend enough quality time on their education.
Could you share something about your educational background and your experience?
After finishing my secondary school VWO-education at Radulphus College, I went to Holland to study in Enschede HBO public administration. I choose this, as I wanted to study something practical and I am a person with a broad spectrum of interests, and Public Administration offered that perspective. They offered Law, Finance, HRM, and ICT as I am a multi-faceted person. I loved the fact that I had to do two internships for my education in Enschede, one at the Province of Gelderland and one at the Ministry of Internal Affairs for 6 months.
Later on, I graduated from the University of Amsterdam with my Master's Degree in Public Administration. I have always been disciplined and motivated during my studies from early on until today.
We know you to be General Manager of Birgen di Rosario. Can you expand a little more on your career path?
After my graduation, I was recruited by the Island Territory of Bonaire to come and work for them. As a loyal employee I worked for 7 years in the Finance Department, I was involved in lots of processes regarding the constitutional changes in the Antilles representing Bonaire and I was also in charge of the Development Aid tasks of the Island Territory. Later on, I went to work in Curaçao for the BZV, but as I started working there, I was already very much involved in the application procedure to become the General Secretary of the SEHOS. Within the 6 months that I was working at BZV, I was accepted by SEHOS and went to work in SEHOS for 14 years. This was a fascinating job as it was very diverse in its activities and lots of things were happening at the same time. I learned a lot during those years.

As I was working at SEHOS, I saw one day by coincidence, a job vacancy come by for Birgen Di Rosario. They were looking for a General Manager and I told myself that I could do this job well, so why not. I send in a letter and they spotted and recruited me. I started working at Birgen in January 2017, with no regrets at all. I have been working with lots of love here for 5 years now. Remember our clients are the elderly they are such beautiful people and by doing this job I am also doing what I am passionate about and that is "to serve".
What are the challenges that you are dealing with? And how are you dealing with these different challenges you confront?
There are different challenges.
First of all, we provide "care" as a service, and service is offered by people. Recruitment of staff and employees is our biggest challenge. We have 250 employees and we are confronted with the fact that employees resign and leave for Holland to go to live and work. So our challenge is twofold, how to prevent employees to resign and how to replace employees by recruiting new employees in the local labor market. Given our salary structure, this remains a challenge for staff and employee recruitment.
The second big challenge is the lack of Finances. As a Foundation, we talk and we notice that what is discussed and agreed upon, is not honored.
We offer service to two categories of clients, one category is those that on the social ground can't live alone anymore and clients that are financed by the law AVBZ.
Although we are proud to offer this care to our clients, maintaining things on a sustainable level remains a challenge. If this is not changed soon we are up for big challenges.
We are dealing with both these challenges by recruiting students that are still at school and in their classes from our local educational institutions. And we are exploring the possibilities to recruit employees from Surinam.
We are in constant deliberations with our two major financiers explaining the importance of our work, we do get a one-time donation at times, so this is not structurally and we have started a process for crowdfunding.
We have lowered our costs these past 2 years by lowering the number of job positions and centralizing our warehouse goods. This resulted in about Ang 600.000,- to Ang 700.000,- savings.

We are also exploring the possibilities to get a special water and electricity bill and keep explaining how important our work is.
Do you use your inner voice to evaluate when dilemmas show up? How does that work for you?
I do consult with my inner voice a lot. Especially when things don't go as I would want them to go, I just stand still for a while and explore and look for solutions. Because of the way the management is structured, I have no counterpart to consult with as a single one-headed manager, so I look for solutions on my own.
As my husband also works in the care, he at times offers advice.
How does my Inner voice work, I would call them my bright Aha-moments that would pop up, be it in the middle of the night or when I am hiking, as I love hiking.
How are you trying also to keep up with your knowledge and skills levels?
I am trying to follow the courses the NASHKO is offering. I read a lot, maybe not as much as is required, maybe. I explored becoming a member of a platform of General Managers of Care centers in Holland that share information, but I decided to prioritize and use the fee required to become a member of the platform for other purposes in Birgen itself. I did visit Holland twice and connected with some Care Centers but because of my work, the intensity of these contacts is less than I would want it to be.
What are your strengths?
I am very serious about doing my work but in my personal life, I dedicate time to checking out the school assignments and homework of my youngest child;
I am a hard worker;
I am result-oriented;
A perfectionist, not in an extreme sense because I am flexible enough to adapt to reach the goal;
I am a joyful person and love to spend time with my friends;
I have no difficulty in making decisions even if it might hurt, like having a difficult crucial conversation;
I am loyal and to the point and concise.
Do you have hobbies or interests that you are also passionate about?
I am a multi-faceted person with a lot of interests. I love traveling to expand my horizon and learn about different cultures and learn from them. I loved to watch movies. I love serious hiking, I started this when I was working in Bonaire and kept this hobby until this day.
What is your BIG WHY or driving motivation to be who you are right now and do what you are doing now?
To serve and help other people. Taking care of our elderly for example is my mission in this world. I do this professionally but also privately.
What are your plans for the coming years and when do you consider that you have been successful in your personal and business/professional life, let us say 5 years from now?
I am now 52 years old (next month) and 5 years from now I would be 57 years old. I would be preparing myself for my retirement, as I firmly believe that one has to prepare for retirement and prepare others to take over. I want to retire when I am 60 years old and would have saved enough money, to be able to do this with peace of mind. My youngest child would then be 18 years old and would be working or studying and the other two children would be settled with a job and a family as they would want to have it filled in.
If you as Indra would meet a stranger on the bus (let's say in Miami or Bogota Columbia) and they would ask you to introduce yourself, what would you answer?
I am Indra from Curaçao. As I am a humble person, ambitious but still not overdoing things, as a tourist I would explain to the other person about Curaçao.
How would you describe Indra in one word or one sentence?
One word: Multifaceted. One sentence: A person with lots of interests, but most basically driven to serve other people. I have a broad interest in different things and I don't like monotony. I would be very happy if I could feed all these interests but the most important one would be: To serve others.
Who are the persons that have inspired you the most in your career?
Javier Hernandez in the 6 years that I worked with him at SEHOS.
What is a trait that is still a work in progress?
My work and life balance. I work hard and I love my family time, Javier Hernandez called me an "oval" person, both work and family are important.
What was a defining moment in your life?
The birth of all my three children, and giving birth to another human being is such a miraculous event.
Where do you want to be 10 years from now with your career?
On my 60th birthday I would be a retired person so that I can do what I want, the things of course that I love to do; when I want to; with who I want to do things. This is combined with excellent health of course. But this is not always something we can control for the full 100 %.
What would you want your Loved Ones, family, friends, and others to say about you let's say 20 years from now?
I am a happy and positive person. And I didn't make a lot of career switches over the years as I am also a loyal person. But I would want them to say:
That they would refer to my humbleness, that part of my personality. That they would recall my positivity and my willingness to serve and help others. I would be very happy if they would say that.
What makes you stay optimistic about the future of Curaçao as we are in the middle of a worldwide pandemic, recession, and in the middle of growing environmental challenges because of the global warming consequences?
I love Curaçao and we need to adapt. Just like we as Birgen di Rosario need to adapt, Curaçao needs to adapt. We need to collaborate more. Birgen is part of a federation consisting of 12 organizations. Four of them are active in the field of Nursing, Care, and Home Care. If we would unite, collaborate and define clear priorities, some of the challenges we have with employees and money would be less pressing. Cooperation has not been successful during this period, but Birgen will keep trying. Hopefully, the overall situation would trigger us all to achieve this, as the economy of scale would be opening more opportunities jointly, that don't exist separately.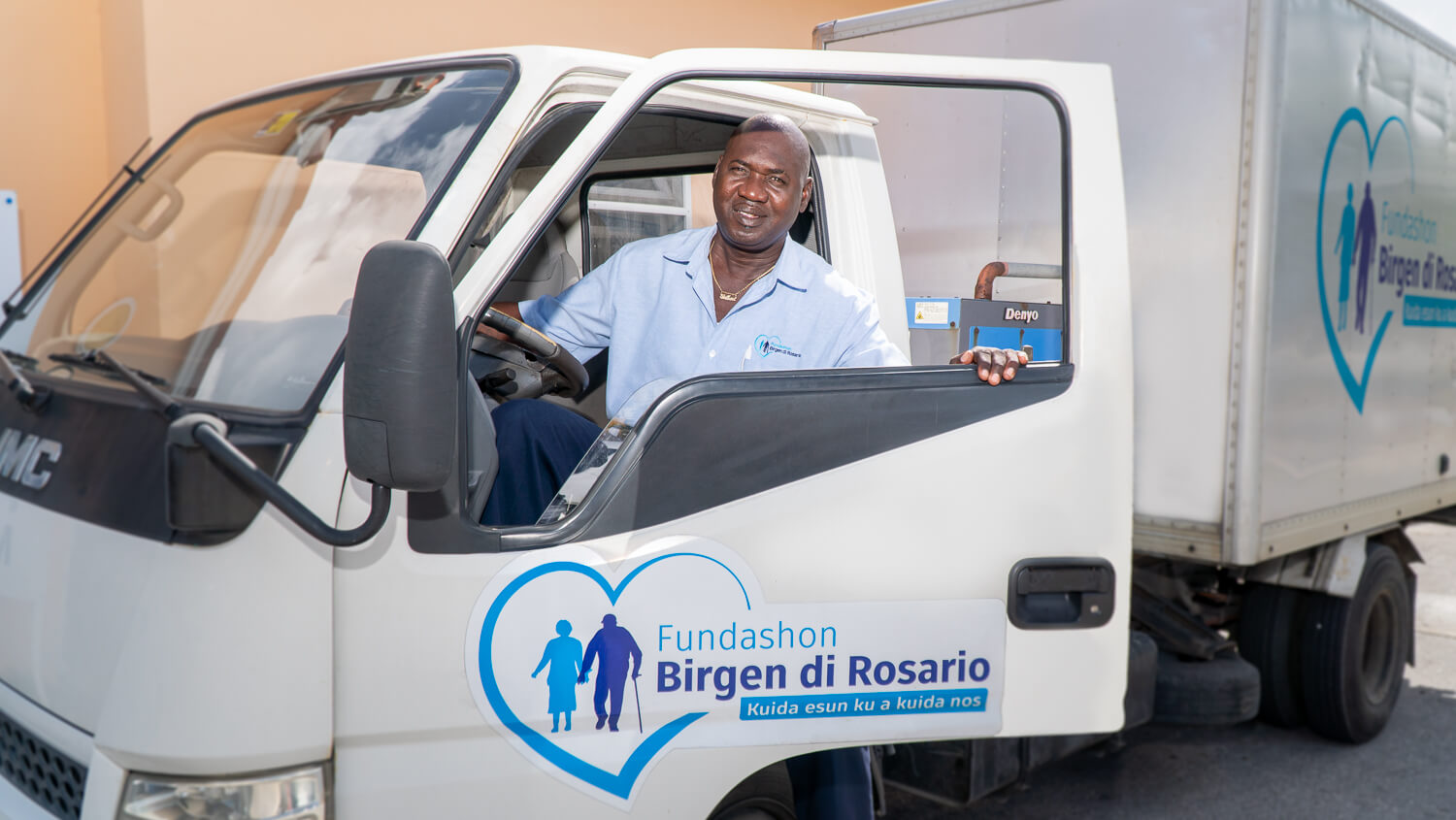 More information or contact
Indra Rossen-Lucasius
Phone: +5999 560-2363
Work +5999 843-3121
Business e-mail: i.lucasius@birgendirosario.com
Private: belensita_lucasius@hotmail.com
Instagram: @indrarossen
Facebook: indra.rossen
Info Birgen di Rosario
Facebook: Fundashon Birgen di Rosario
Website: ouderenzorg-birgendirosario.com
Phone: +5999 843-3121
Instagram: fundashon.birgendirosario
One of the 250 Influencers of Curaçao
Indra Rossen-Lucasius is a multi-faceted, humble, serious, hard-working, housemother and also result-oriented professional that is passionate about serving and helping people. This she strives to achieve in her work and privately. Positively and joyfully engaged in life, she is constantly trying to balance her professional life and loves to spend time with friends. Her positivity she combines with "a sense of reality" and because of this, she has continued trying to deal with her dual challenges, namely the recruitment of new employees and new staff in a depleted labor market, as employees resign to go and live in Holland. But on the other hand, she is dealing with a lack of sufficient funds to pay for the services Birgen provides. Notwithstanding these challenges, Indra has continued to look for solutions to recruit new employees and she has stayed in continuous dialogue with those funding Birgen, she has explored alternative funding resources, including crowdfunding and she has been instrumental in adapting and saving costs to the bare minimum in the past two years. The circumstances are not easy as she doing her utmost to explain the valuable and necessary work Birgen di Rosario is doing, in a macro environment that also requires adaptations. At the same time, she is also trying to feed all of her multiple interests, but the most important still is: "To serve others".
For all these reasons, we deeply love and respect Indra, and we consider her one of the 250 influencers of the islands representing the "Elderly Care sector ".  Look at the list of the Influencers we have interviewed or reported on, up to now.
Share this page